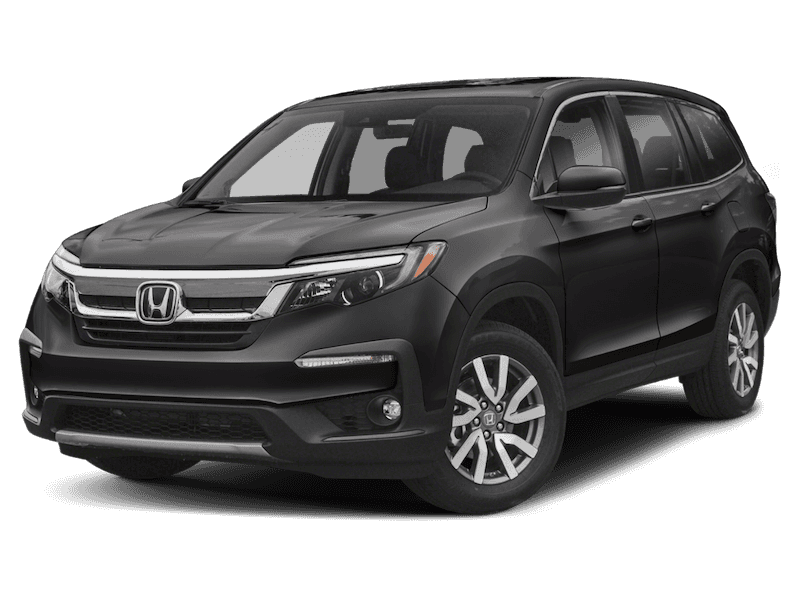 The Honda Pilot: Something for Everyone
An SUV with seating for eight provides some fairly obvious uses. They're perfect for road trips, and they're ideal for growing families. If you're embarking on a getaway with family or friends, you'll want plenty of room for everyone, and you'll want them to be kept safe from the hazards of the road. Naturally, some entertainment options wouldn't hurt, either. The cabin must remain comfortable even if the ride goes long, and all the onboard technology must be clear and easy to navigate.
If this describes the SUV you're looking for, Honda's three-row crossover Pilot provides all the essentials and more. The Pilot is the largest member of Honda's crossover lineup, and its roomy interior can seat children and adults with all the security and support drivers demand in a family vehicle. Its powerful engine, easy handling, and variety of infotainment features make it perfect for comfortable cruising and vacations with family and friends.
If you'd like to learn more about the Honda Pilot, we invite you to see it up close at Pearson Honda. The best way to get to know this spacious SUV is to take it out for a test drive, so come get behind the wheel today!
What's New in the 2019 Honda Pilot?
Since a thorough redesign in 2016, Honda has continued to upgrade the Pilot with each new model. For 2019, the Pilot comes with an enhanced optional nine-speed automatic transmission and more safety features than ever before. An updated interior now sports a sleeker layout with user-friendly infotainment system.
The Pilot has always offered a generous amount of interior space, and the 2019 version comfortably accommodates eight across three rows. As a reliable family SUV, the Pilot presents four full sets of LATCH car seat connections. It also promises an abundance of cargo space, with 16 cubic feet of storage behind the rear seats, you'll have up to 84 cubic feet when the rear and middle seats are folded.
Available tech features include a Wi-Fi hot spot, satellite radio, wireless phone charging, an HDMI port, and smart phone connectivity with Apple CarPlay and Android Auto.
The 2019 Pilot scored well on its crash tests and offers a variety of safety features including collision mitigation braking, road departure mitigation, lane keep assist, forward collision warning, and adaptive cruise control among others.
The Pilot is powered by a 280-horsepower V6 with the option of a six-speed or nine-speed automatic transmission. Either choice will deliver smooth shifting, and the SUV also promises respectable gas mileage. It provides a steady, calm ride with responsive brakes and steering. When set up to tow, the Pilot can also pull up to 5,000 pounds.
History of the Honda Pilot
The Pilot arrived on U.S. roadways in 2003, right as the American interest in SUVS was starting to rise. Honda's new entry to the class was received with excitement, as drivers were vocally fond of the spacious cabin and abundance of storage space. The initial version was built on the same platform as Honda's Odyssey and Accord, and came outfitted with four-wheel drive.
Honda issued some sensible exterior upgrades in 2006, as well as a two-wheel drive variation and more safety options. Three years later, the Pilot was totally reimagined, returning bigger than ever before with even more driver assistance and entertainment features. The maker continued to research new ways to enhance their vehicles, and debuted the Pilot's next generation in 2016. The most current generation features a modern crossover style and a wide range of infotainment features, furthering the manufacturer's dedication to staying at the frontier of the automotive market.
Find the Pilot at Pearson Honda
We conduct our business according to the Pearson Honda Creed, promising to make your satisfaction our top priority. When you visit our dealership in search of a new vehicle or for maintenance, you can expect dedicated customer service and a straightforward, stress-free experience.
We have a diverse stock of new Honda cars, SUVs, minivans, and trucks, and you can see our entire new vehicle lineup online from the comfort of your home. We also have a selection of reliable pre-owned vehicles from a range of well-known makers.
Of course, you're always welcome to visit our dealership to explore the inventory in person. Our expert staff will be standing by to answer your questions and help you locate just what you need. They'll also be happy to go over our financing options and special offers.